Key Contacts
LMMA has a Network Coordination Team and a Network Support Team to support administrative needs, project design and implementation, and lessons exchanges, including assisting governments, donors, development agencies and civil society incorporate LMMA principles and approaches.
Network Coordination Team
Caroline Vieux
Network Coordinator
Caroline is French and has been involved in working with Pacific Islands governments and communities since 2004, first as a coral reef monitoring scientist and trainer for environment and fisheries officers of the Polynesian region. She then moved to the Secretariat of the Pacific Regional Environment Programme in Samoa as the Coral Reef Management Officer and in this position she started attending LMMA Network Coordination Team meetings, supported LMMA activities such as the last LMMA conference in 2008 and promoted the LMMA approach in the French territories. She went back in the field in 2013 to develop and support the implementation of community-led small-scale resource management and supplementary livelihood projects in French Polynesia. She moved to New Caledonia with her family in 2019 and was contracted as the LMMA Network Coordinator in 2019 to manage the LMMA component of the Pacific European Union Marine Partnership (PEUMP) Programme and also help with the operations of the network.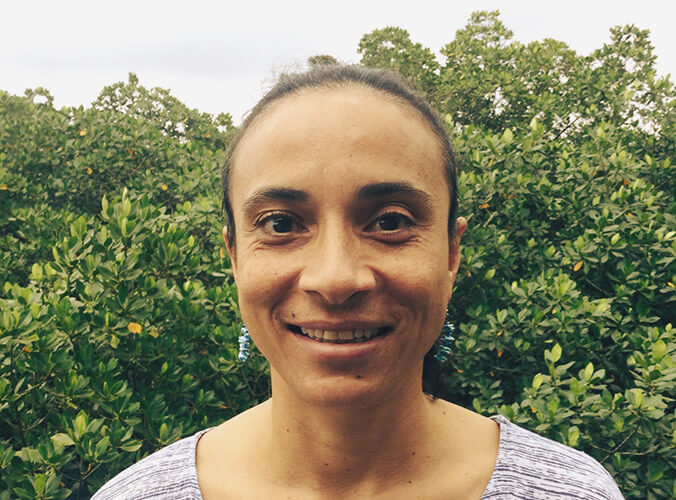 Teri Tuxson
Assistant Coordinator
Teri was born and raised in Suva, Fiji, with maternal links to the island of Rotuma. She has worked in coastal fisheries projects through the LMMA Network International, the School of Marine Science at the University of the South Pacific, and the Mamanuca Environment Society, and volunteered with LajeRotuma Initiative and Coral Cay Conservation. She hopes that through her work with the LMMA Network, she can help bring about better understanding of how community advocacy and science-based solutions can result in positive change for communities and governments alike.
Subscribe to our e-newsletter to keep up to date with latest news and research on community-based marine resource management.